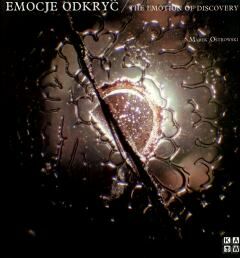 Emotion of Discovery
The album is devoted to the role of image in the evolution of our thought, to the making of discoveries and the development of our knowledge. An image is also the language of statements.
The invention of photography and parallel discoveries in chemistry and physics enable the development of imaging techniques. They expanded the horizons of our senses and, thanks to them, the scope of our cognition has also increased. These techniques will not be meaningful, however, if the brain will not be plastic - capable of accepting new knowledge - or creative - capable of interpreting contents and constructing new images, creating and verifying cohesive models of reality.
Scientific discoveries are based not only on knowledge but to an equal extent on emotions and passion - factors that motivate and release non - stereotypic associations in thought.
Beside modern photos taken by the author and non -standard interpretations, the album also contains short scientific essays. Their thoughts were put on paper especially for this album by professor W. Kunicki -Goldfinger - a microbiologist and philosopher and professor F. Jacob - a winner of the Nobel prize.
The album, published in 1989 by KAW was honoured by individual awards from the Minister of Science and the Minister of Culture.